PAWS Dogs and Puppies in Foster Care
Last updated Thursday April 18, 2019
Please click here and take a moment to read some important information before viewing our dogs available for adoption
This webpage is not compatible with Mozilla Firefox browser



These pets have been saved, thanks to their rescuer and the kindness of foster carers who are looking after them temporarily, but they are still looking for homes. Please note that descriptions of dogs as either purebred or a cross of particular breeds is given in good faith and is based on assessment of the dog's features, together with veterinary opinion. We cannot guarantee the age, breed or purebred status of any dogs listed.
There is a two week trial period if you decide you would like to adopt a dog. This is to ensure that everyone is happy with their new family member and also that the dog is happy in their new home.
-
PAWS SIZE GUIDE

TOY (up to 5kg)

- eg. Chihuahua, Papillon

SMALL (6-10kg)

- eg. Maltese, Silky Terrier, Shih Tzu

MEDIUM (11-20kg)

- eg. Beagle, Kelpie, Cocker Spaniel

LARGE (21-50kg)

- eg. German Shepherd, Rottweiler

EXTRA LARGE (over 51kg)

- eg. Great Dane, Mastiff
Dogs and Puppies Rescued by Tania

Female Mini Foxy X
Aged approx. 7 years
Small size

Rachel is a lovely girl who has spent most of her life with a very elderly owner that cared for her well but was not really able to give her what she needed so she hasn't had much training in her life and was pretty much left to her own devices in her home. When she initially came into care Rachel was quite stubborn and not used to rules. She was also quite wary of new people as she probably led quite a sheltered and lonely life. Rachel's fear of some things meant she was quite snappy at first but she has blossomed in foster care over the past month or two and has transformed into a sweet girl. She is an affectionate dog who needs a home where she will get lots of love and attention but also one where she will continue her training in a very positive and gentle way. Even though Rachel has improved a home without children under 12 years would be better for her. She is not suited to a home with cats but doesn't mind other dogs and, if there is one in the home, it would ideally be another small, easy going male companion. Rachel needs to get out, see the world and have some fun so active owners who don't work full time will be best for her. Just give her time and patience and take her for out for walks and to the beach and then you'll be rewarded with love from this beautiful little girl. Rachel is house trained and can use a doggy door.
Rachel comes desexed, microchipped, vaccinated, wormed, on monthly heartworm prevention and with NSW Local Council lifetime registration for $495. She is not available for adoption outside NSW (except ACT). Please email tania@paws.com.au for more information on Rachel.
Listed 28 March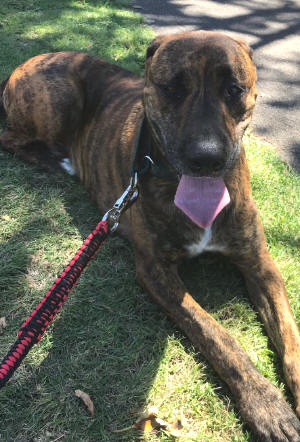 BUMBLEBEE
Male Great Dane X Rottweiler (?)
Aged approx. 4 years
Extra Large size

Bumble Bee is just a big baby! He's an incredibly loving Great Dane X that wants to be around you and have cuddles on the couch or the bed. No one will ever be happier to welcome you home from work or even just after a 5 minute absence! After a 2km morning walk he is tired and sleeps the rest of the day before his night time walk.