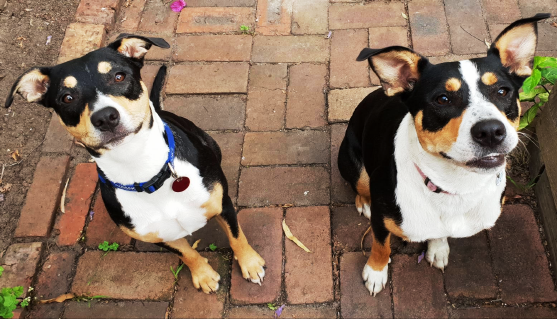 LAYLA AND HONEY
Two Female Kelpie X
Aged 12 months and 9 months
Large size
These two girls are extremely bonded and need to stay together as they have been together their whole lives These two girls are looking for an active home with active owners who will take the time necessary to continue their training and have the energy to exercise and stimulate them. Both are ball mad and love the water so the two together are a winning combination. And as they will also return the ball it's a good game for everyone! This pair of girls have had a very basic start to life but are now loving daily exercise, ball time, swimming, etc. Layla and Honey have lovely gentle natures, get along well with other dogs and are both cat friendly. They need a good pack leader to show them the ropes but right now they are still very much pups and, if not exercised enough, will chew on their beds, toys, and most other things around the house but that's pretty normal for their age. The girls need a good sized space to live in as they are a bit vocal at the moment and will bark at unusual noises around the home but continued training will resolve this as they are very receptive to training. Both Layla and Honey are house trained and sleep soundly at night.
Layla and Honey come desexed, microchipped, vaccinated, wormed and on monthly heartworm prevention for $700 the pair. They are not available for adoption outside NSW (except ACT). Please email tania@paws.com.au for more information on Layla and Honey.
Listed 7 January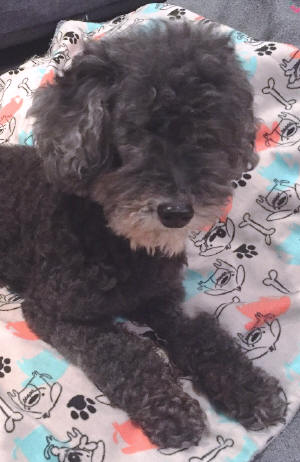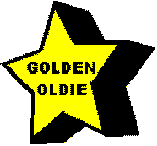 SOOTY
Female Purebred Miniature
Poodle
Aged approx. 12 years
Small size

Sooty is completely blind as she has had one eye removed and relies on her awesome hearing and sense of smell to get her around. She can work out her surroundings pretty quickly and has even worked out how to go up and down steps! Sooty is highly intelligent and socialised with other dogs and cats so gets on with her doggy foster siblings really well. She loves her food but it's best to keep her on her special Hills digestive diet because she has a sensitive tummy. Sooty has good recall and walks well on a lead as she will trust you to lead her and happily trot along behind you. This little old girl spends a lot her time napping but loves human company so will curl up next to you in a heartbeat. She loves going to the dog park and sun baking and trips in the car but especially loves her daily walks. Sooty is best suited to a home where any resident children are older than 5 years and where the adults aren't working full time so she is not left alone for long periods. She will need regular professional grooming but has a non-shedding coat.

Sooty comes desexed, microchipped, vaccinated, wormed and on monthly heartworm prevention for $300
.
Sh
e has had a recent dental (teeth cleaned under anaesthetic) and is NOT available for adoption outside NSW (except ACT).
Please